What really moves the needle on learning?
In education, new ideas, tools, and strategies are coming at you all the time. On top of that, changing circumstances compel you to make adjustments to the way you normally do things.
With all of this spinning around you, it can be hard to find a clear path. What you need is a compass, a set of principles you can return to again and again when you start to feel like you're losing your way.
This mini-course is that compass: A set of four "laws" for planning instruction. Just instruction. Yes, many other factors influence the quality of a student's education, but when it comes to instructional planning—what you do in that 45- to 90-minute block of time that's set aside for actual pedagogy—following these principles produces the most powerful learning:
1. Keep the GPS on. Use best practices for learning goals, success criteria, formative assessment, and feedback to make sure students always know where they're headed and what they have to do to get there.
2. Classify, connect, and compare. Make the most of your students' natural tendency to sort information into categories.

3. To learn, we need to churn. Always provide opportunities for students to actively process the knowledge and skills they're learning.
4. Better to retrieve than receive. Apply the science of retrieval practice to help students store their knowledge in long-term memory.
---
What's Included
Inside this self-paced course you'll find four modules, one for each law. Each module contains the following materials:
Videos: Each module is taught through videos that introduce the law, the research behind it, specific strategies you can use to implement it in the classroom, and how you can make it work if you're teaching remotely. All videos are close-captioned.
Guided Notes: To keep you actively engaged, complete these printable notes as you follow along with the videos.
Module Quizzes: At the end of each module you'll take a short quiz to check your understanding.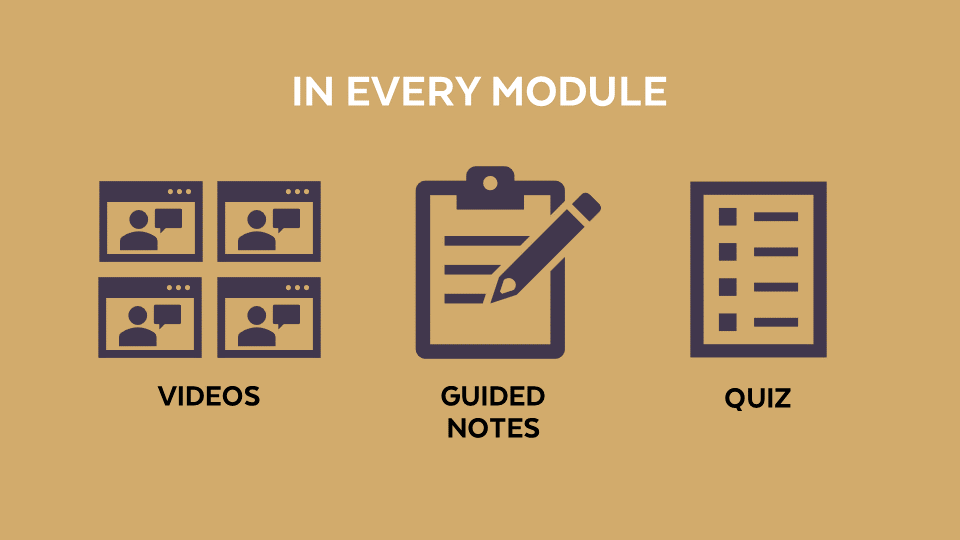 Reflection: Each module ends with an opportunity for you to reflect on how well you are currently applying this law and how you can improve in that area.
Summary Notes: this 22-page PDF summarizes all the key points from the videos, plus a full bibliography containing references for all the research behind the laws. This will allow you to quickly reference the concepts you learned in the course.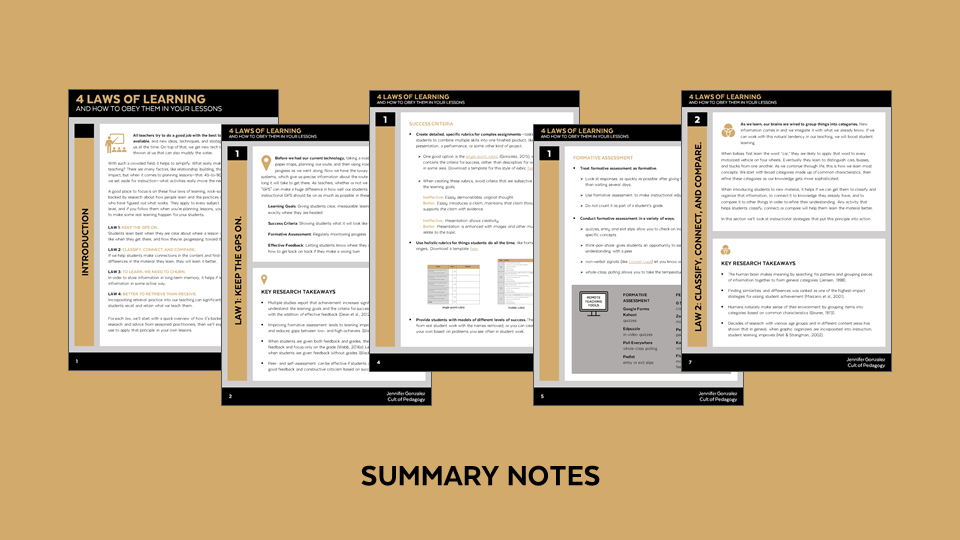 With this mini-course in your back pocket, you'll have a greater sense of confidence when planning your lessons. New ideas, tools, and programs will still come along, and your teaching situation can change at any moment, but anytime you need to get re-centered, anytime you need a refresher on what makes for a solid learning experience, you can always return to these four laws.
Your Instructor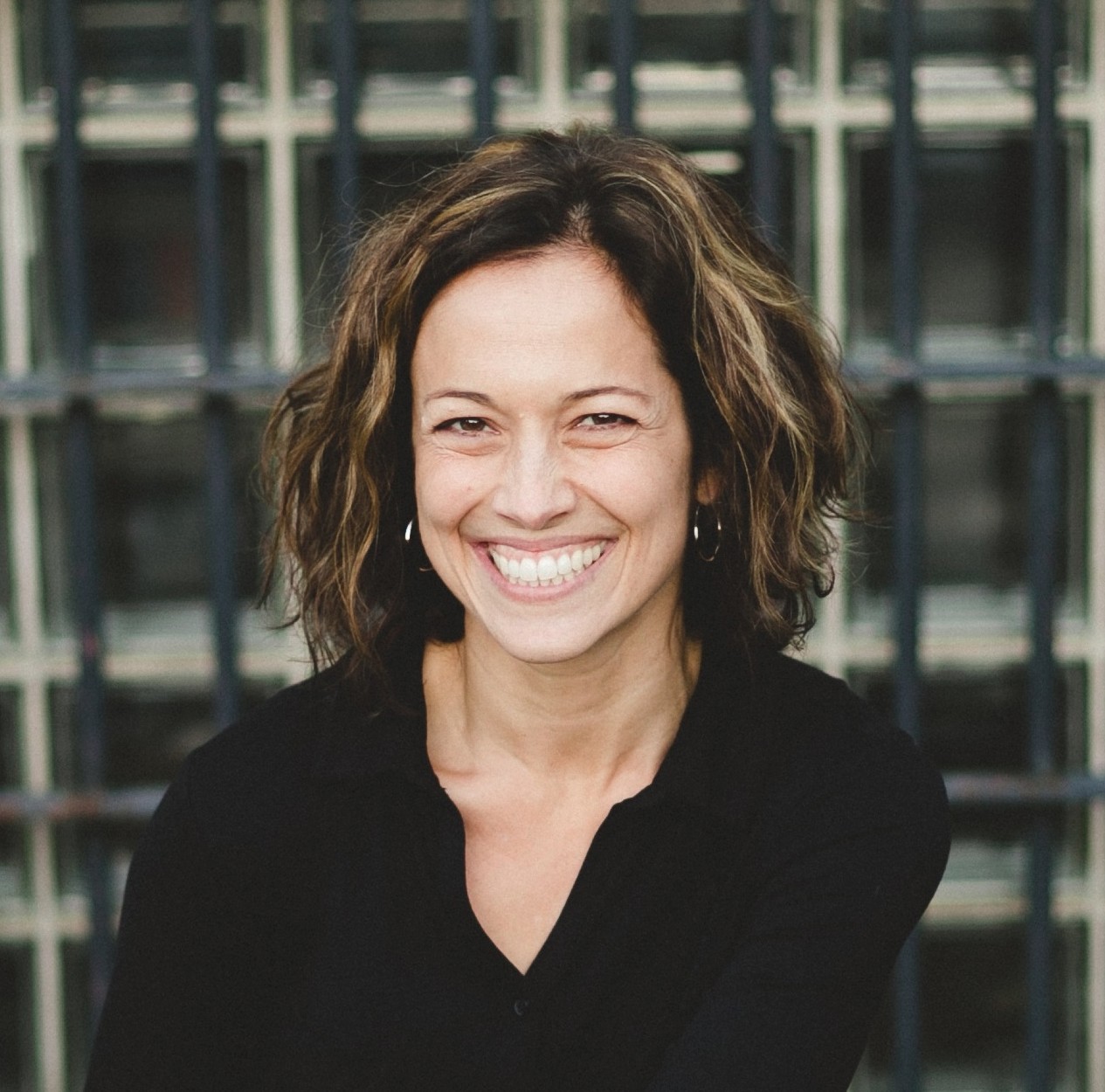 After spending over 11 years in the classroom, both at the K-12 level and the college level, I created my website, Cult of Pedagogy, to be a place where teachers could fully geek out on teaching. Since 2013, I've been researching and sharing effective teaching practices, exploring the social and emotional stuff that impacts our work, sampling the tech tools that help us along the way, and looking inside real classrooms to learn from teachers who are thinking outside the box.
Now I've created the Cult of Pedagogy Classroom as a place where teachers can focus on improving specific skills in a self-paced environment.
What's Inside
Introduction and Course Materials
Available in days
days after you enroll
Law 1: Keep the GPS On
Available in days
days after you enroll
Law 2: Classify, Connect, and Compare
Available in days
days after you enroll
Frequently Asked Questions
When does the course start and finish?
The course starts now and never ends! It is a completely self-paced online course - you decide when you start and when you finish.
How long do I have access to the course?
After enrolling, you have unlimited access to this course for as long as you like - across any and all devices you own.
What if I am unhappy with the course?
We want you to feel good about making this investment in your professional growth. If the course does not meet your expectations, contact us at
[email protected]
within 14 days of your purchase and we will give you a full refund.
Does this course have an active instructor or a community?
No. This is a completely self-paced course you take on your own. The course materials would make a great centerpiece for a group study or whole-school professional development, but you would need to arrange those on your own.
Can I get PD credit for this course?
Unfortunately, no. Professional development credits vary from state to state and country to country, so there's no single governing body to certify this course. To make this eligible for college credit would bring the price up by several hundred dollars, so we're keeping the cost low and offering this as an opportunity for your own personal growth as a teacher.
Are the quizzes graded?
The quizzes are provided just as a self-check, so you can see how well you understood some of the main concepts in the modules. You will receive a score after each one, but that's just for your information.
Do you accept purchase orders?
Yes! We accept purchase orders from U.S. customers for $25 or more, and from international customers for a minimum purchase of $99. Please scroll down a bit further on this page -- you'll see a link to a form you can fill out to request a purchase order.
I'm teaching remotely. Is this course right for me?
Absolutely! These principles guide planning ANY kind of instruction, even online teaching. To help you figure out how to make the technology work for each strategy, a "Tools for Remote Learning" section can be found at the end of each module with specific recommendations for online instruction.
I've seen some of this content for free online. Why should I get the course if I can find some of this information elsewhere?
That's the beauty of an online course: Everything is all in one place, organized for study. I created this course because I have spent a lot of years learning about what works really well in the classroom, but that information is scattered everywhere in blog posts, YouTube videos, and podcast episodes. What I've done for you here is pulled it together, rewritten and redesigned it so it's clean and unified, organized concepts into cohesive categories, significantly beefed up the research behind it all, and added a lot more that I haven't published anywhere. On top of that, there are guided notes to keep you on track, regular opportunities for reflection, and summary notes you can refer to at any time. I know teachers are incredibly busy, and I've made it my life's work to bring you the tools and strategies that will make the biggest impact on your teaching. This course is just one more way I'm doing that.
Can I take this course as a group? Can my whole school sign up?
Yes and yes!! If you scroll to the bottom of this page, you'll see a variety of pricing plans to fit many different group sizes.
Here's how multi-user licenses work:
Step 1:
One person pays the group's tuition.
Step 2:
By the next business day, we will email that person a coupon code to give to the other people in the group; each person would then use the coupon code to purchase their own single-user license for free.
If you need licenses for a number other than 5, 10, 20, or 40, you have three choices:
Option 1:
Buy more licenses than you need with the idea that more people will eventually want to be added to your group (highly likely, because this course is solid).
Option 2:
Have different people in your group buy different chunks. So if you have a group of 16, have one person buy a 10-user license, another buy a 5-user license, and one person buy a 1-user license, then do the math to figure out what everyone owes each other.
Option 3:
Contact us
for a customized invoice, which you can pay through PayPal or paper check.
I am a teacher educator. Can I use this course to teach my students?
Yes! University students enrolled in a teacher preparation course are eligible for a discounted rate; this must be arranged by the course instructor. Just use our
contact form
to contact us and we will arrange a course-specific coupon code for your students.
Purchase Orders
We accept purchase orders from U.S. customers for any order of $25 and over; for international customers, the minimum amount for a purchase order is $99. To generate a quote for a purchase order, please fill out this form and someone from our team will contact you with an invoice.
Other Questions
If you have another question that hasn't been answered here, please get in touch with our contact form.